Search results: 2
About the course
Demystifying Procurement is a course for procurement beginners, or practitioners who would like to refresh their knowledge.
The procurement wheel sections takes you through planning , sourcing and managing procurement.
This is a self-paced course divided into eight sections.
You can start in any section and you can leave and resume at any time.
To complete this course you need to finish all eight sections and achieve a 75% pass.
Your results will be recorded in your Course Completion Report (accessed via My Learning).
This course is a pre-requisite for attending the Demystifying Procurement face-to-face workshops.
Who is it for: This course is for all procurement practitioners - all stages of experience.

Duration: 20-30 minutes per section.

You need to be a logged in, registered government user to complete this course.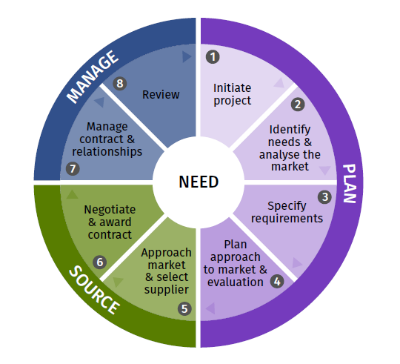 About the

workshop
This interactive three hour face–to-face

workshop

will introduce the

procurement

life cycle and some of the key activities in it.
By the end of this course, you will be able to:
Explain how successful procurement benefits the government, the taxpayer, suppliers, and yourself in your role.

Recognise what you need to know about the Principles of Government Procurement and the Government Procurement Rules to ensure you are doing procurement correctly.

Recognise the procurement wheel and relate the steps in it to the activities that take place within procurement.
Pre-requisite: Complete Demystifying Procurement online modules before attending this face-to-face workshop
Who is it for: New procurement practitioners

Duration: 180 minutes

You need to be a logged in, registered government user to register for this workshop.